June Curry - The Cookie Lady
Every cyclist who's ridden the Transamerica Trail knows about June Curry, aka The Cookie Lady. From her home in tiny Afton near the entrance to the Blue Ridge Parkway, she has been feeding and providing lodging to cross-country cyclists since 1976.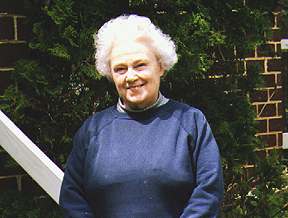 The Cookie Lady's hospitality is the cyclist's reward for completing what some describe as the worst climb on the entire transcontinental route. The road up to Afton cuts back on itself in a series of wicked hairpins, one of them so tight that a sign warns cars to slow to 5 mph. At each, a cyclist has to choose between following the road's full curve for thirty or forty grueling feet, or cutting across the two lanes to ride straight up the hill and substitute seven or eight feet of even more impossibly pitched climb. It's not a particularly long ride up but it's challenging -- when I arrived in Afton, I needed a cookie! (The experience of eastbounders is very different. For them, the Cookie Lady marks the end of their climbing, and indeed presages the end of their entire journey. Eastbounders coast down to June's house from the Blue Ridge Parkway, then down that nasty hill to the Virginia coastal plain, where they have three or four more days of rolling riding before arriving at Yorktown.)
The Cookie Lady lives in a modest, charming brick house on Afton's main (only) road. Two doors down she keeps another house, a remarkable building which she calls the "Bike Museum". There, the kitchen is fully stocked with food, drink, basic first aid materiel and other provisions for hungry, thirsty or tired cyclists. Four large rooms are filled with books, photos, journals, scrapbooks, maps, and memorabilia left or sent back by the thousands of cyclists who have enjoyed June's generosity. The walls are literally covered with postcards. Each room has at least one couch (with a supply of blankets and pillows near at hand), and cyclists are welcome to spend the night.
It was chilly when I arrived in Afton, and the roads had just dried after a morning shower. Of course, I showed up at June's unannounced but she welcomed me warmly, opened the Bike Museum and, apologizing for the meager supplies (!), told me to make myself at home. I feasted on soup, ramen noodles, peanut butter sandwiches, cold cuts, sodas, and of course cookies. I hung around for more than two hours perusing the stacks of reading material, admiring the extensive collection of objets de bike on display, and later chatting with June about people she'd met over the years. I was tempted to spend the night at the Museum -- there was so much to look at! -- but it was still early, I was fortified by the two-lunch equivalent I'd consumed and the day had turned nice, so at about 1:00 I waved farewell to June and continued on up to the Blue Ridge Parkway.

If you enjoyed this page, you might want to visit Biking Across the USA and read more stories from my cross-country bike trip!
Back to the Virginia page
Main page / The Route / FAQs
Stupid signs / Aphorisms / Packing list / Links

Page posted May 3, 1998